The mission of Ronald McDonald House Charities® of San Diego (RMHC®-SD) provides a home away from home for children and their families while the child is treated for serious, often life-threatening illnesses at San Diego Hospitals.
Since 1980 the Ronald McDonald House of San Diego has provided a 12 bedroom home away from home for more than 12,000 families in need! In addition to the nights of lodging the House has opened its doors to anyone who has a child at local hospitals for our other services. Volunteer opportunities for groups, adults, teens and children include:

• In-House Volunteer (Great for adults)
• Administrative Volunteer (Great for adults)
• Cook it Up (Great for groups, adults, teens, children)

If you are interested in learning more about the Ronald McDonald House simply check out their website.



Big Brothers and Big Sisters of San Diego County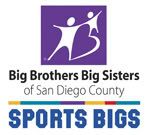 We are proud to announce our partnership with Big Brothers Big Sisters of San Diego County. Become a Big Brother or Big Sister and receive 2 FREE VAVi Leagues! Check out how you can make a difference in the lives of others and paricipate in volunteer opportunities in your area!
VAVi has teamed up with Big Brothers Big Sisters of San Diego County to find Men for a NEW Sports Bigs Program.
Hang out with someone who loves sports as much as you do! Big Brothers Big Sisters pairs volunteers with youth in Sports-Related activities, and provides free tickets to sporting events that you can enjoy together. This program is focused on promoting a healthy lifestyle for children while creating a common ground for mentoring to take place. All volunteers are screened, then matched to a child with similar interests and are provided ongoing support by Big Brothers Big Sisters professional staff.
You will be helping a kid develop sportsmanship, increase their self-esteem, and learn valuable life lessons while enjoying your favorite sports!
See what a difference a few hours can make in a child's life . . . and in yours!
To learn more go to their homepage or call (858) 536-4900 begin_of_the_skype_highlighting (858) 536-4900 end_of_the_skype_highlighting. You must be over 18 to volunteer.